Attorney Profile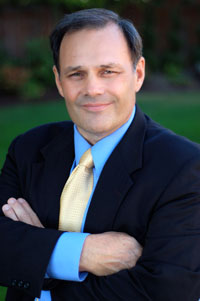 Mr. Merlin D Wilkinson is a sole practitioner with 16 years of legal experience. His emphasis is in making every reasonable attempt to favorably settle your case out of court. He estimates that approximately 95% of his cases settle without resorting to expensive litigation.
Mr. Wilkinson was born and raised in Utah. While attending American Fork High School, he served as President of his sophomore class. He was an all-state running back in football and a sprinter on the track team. He also played football for Dixie College in St. George, Utah, where he was named all-conference running back. Mr. Wilkinson is active in the LDS church where he has worked with youth and adults his entire adult life. He also served for two years in the Georgia Atlanta Mission.
Mr. Wilkinson majored in psychology at Brigham Young University (BYU) and received his Bachelor of Science degree in August 1987. One month later, Mr. Wilkinson began classes at Northwestern School of Law (Lewis & Clark Law School) and graduated with his Juris Doctor degree in 1990. Mr. Wilkinson passed the Oregon State Bar exam in 1991 and has since then been admitted to practice law in all city and county courts in Oregon.
Shortly after graduating from law school, Mr. Wilkinson began working with the law firm of Wood & Riddle; a Utah based firm specializing in collection law. He worked there for a short time but then left Wood & Riddle to start his own firm. He has been working as a sole proprietor ever since.
Mr. Wilkinson is a creative and discerning advisor to clients and colleagues, an experienced sole practitioner who interacts positively with judges. He has negotiated favorable settlements and has effectively represented hundreds of clients through their difficult times. Mr. Wilkinson provides sound representation in an honest manner. He will not candy-coat something but is straight forward with clients throughout their representation.
When he is not practicing law, Mr. Wilkinson enjoys golfing. He has golfed at nearly sixty different golf courses in four different states and in two different countries. His most memorable golf experiences were getting a hole-in-one and golfing at the St. Andrew's old course in Scotland. Mr. Wilkinson also enjoys watching professional sports and admits that playoff times are his favorite times of the year. Mr. Wilkinson also enjoys traveling internationally. He has visited numerous countries during the past several years.
Mr. Wilkinson is active in the community. He has served as a volunteer attorney for Saint Andrew Legal Clinic since shortly after it opened its doors in 1995. He was named 2008 Saint Andrew Legal Clinic Volunteer of the Year. Mr. Wilkinson currently serves as the president of Sunburst Meadow Home Owners Association in Hillsboro and has been in that position for four years. He recently was elected to serve an additional two year term. Mr. Wilkinson believes in enhancing the livability of our communities and participates regularly in SOLV and other community improvement activities.
Mr. Wilkinson is a father and husband who has been married for twenty-nine years. He has four children (three boys and one girl) and three grand-daughters. Mr. Wilkinson treasures time with his family. Nearly every Friday, Mr. Wilkinson takes his oldest grand-daughter on a lunch date, a tradition he started over five years ago. It will soon be time for Mr. Wilkinson to work the younger grand-daughters into the Friday lunch rotation.
Now that you've arrived at this place, take a moment and contact Mr. Wilkinson. Confidentially discuss with him by phone or in person the legal issues and concerns that you have. He looks forward to working with you to successfully resolve disputes which have guided you here.